The ability of an outdoor blind to withstand wind is very important for all installations, especially in windy areas.
Wind, when it strikes a blind generates forces that act on the blind in the same way as a large mass does.
The tests conducted within this project leverage off testing performed by the University of Adelaide in 2018, which determined that a correctly fabricated and installed Ziptrak® Outdoor blind can withstand wind speeds of over 82.4km/hr (using aluminium rivets*) and 139km/hr (using stainless steel rivets*). *Rivets are used to fix the Ziptrak® Track and Ziptrak® Channel together on each vertical side of the blind.
Note: In real-world situations, wind acts like a shock force against the blind skin and blind structure, buffeting, fluctuating in intensity and force exerted onto the blind.
Laboratory or Wind Tunnel testing, while providing insight into general blind strength and wind resistance, cannot provide an exact representation as to exactly how a blind will perform in a storm or extreme event, nor the effects that constant wind and buffering will have on the blind system and the structure the blind is installed into.
Installation Structure & Fixings
Outdoor blinds are installed into many outdoor structures, which may or may not resist very windy or extreme weather events well.
Wooden structures can expand and contract depending on the season, and subsurface soil movement can alter the opening size and place additional strain on the fixings used to fix the Ziptrak® system to the structure.
The fixings used during the installation are vital in overall blind system strength and longevity. So Ziptrak® installation procedures stipulate the suggested fixing to be used to affix to the base structure and the fixing of the Ziptrak® track and channel to each other.
Components & Their Effect on Overall 'Blind System' Performance
The Ziptrak® outdoor track guided blind system is a "Controlled" components system using aluminium componentry and rigorous installation procedures.
Each Ziptrak® component is engineered to work together within the Ziptrak® system to achieve maximum performance and longevity of effective operation.
Ensuring only Ziptrak® engineered componentry is used in every Ziptrak® outdoor blind ensures that Ziptrak® Blinds work as designed and engineered and continue to do so for many years.
Longevity and performance are critical to Ziptrak®, and that is why Ziptrak® continues only to offer a closed system.
Blind Size& Fabric Effects on Wind Resistance
The blind size and fabric used for the blind skin impact the overall wind resistance performance. Large blinds are less capable of handling high wind than smaller blinds.
Skin material also impacts wind resistance; PVC and Blockout style fabrics provide the maximum barrier to the wind (potentially reducing wind resistance), whereas open mesh styles, e.g., 95% mesh, do allow some wind to pass through, albeit small amounts, thereby increasing their potential wind resistance, their ability to handle wind.
The Tests
Multiple mathematical and physical tests were conducted to determine the results within this document.
Scientific Theoretical Calculations
A 2.5m by 2.5m blind subjected to a 160 km/hr wind speed provides an equivalent static load of 755kg, Approximately the weight of a large Bull.
Physical Testing
A mixture of "Direct Spline Force in situ, within a Ziptrak® Track", and "Static Weight" tests, using a full 2.5m x 2.5m outdoor Spring-operated blind, were conducted to test the worst-case scenarios, simulating the use of PVC or Blockout style mesh in resisting wind.
Ziptrak® Side Spline and Track strength were tested in their ability to resist tensile loading, the case where a spline exits the track. A 500mm section of Small (65mm) Ziptrak® Side Spline within a standard Ziptrak® Track was tested, loading the spline with more than 240kg of static force.
The results demonstrated that the Ziptrak® Side Spline and Track could withstand more than 240kg of static force without failing. This is more than 10x the force expected to be applied in real-world extreme weather conditions.
During physical testing, the blind structure was subjected to a static uniform load of 700kg using the standard fixing methodology, as per Ziptrak's Standard Installation Procedure, including Stainless-Steel rivets.
With a slight change to the fixing instructions, the static uniform load of 900kg was achieved without long-term negative effects on the Blind system. (Note that blind skins will deform under extreme loads, static or wind, and may stretch; however, the blind system can still operate normally).
Note: These results are extrapolated into km/hr for the various blind sizes within Tables 1 & 2.
Wind Load Force Representation
Figure 1 demonstrates the load force the blind undergoes during a 900kg static load test. Note the red sections where the greatest load occurs. The results achieved were consistent with both theoretical and physical tests.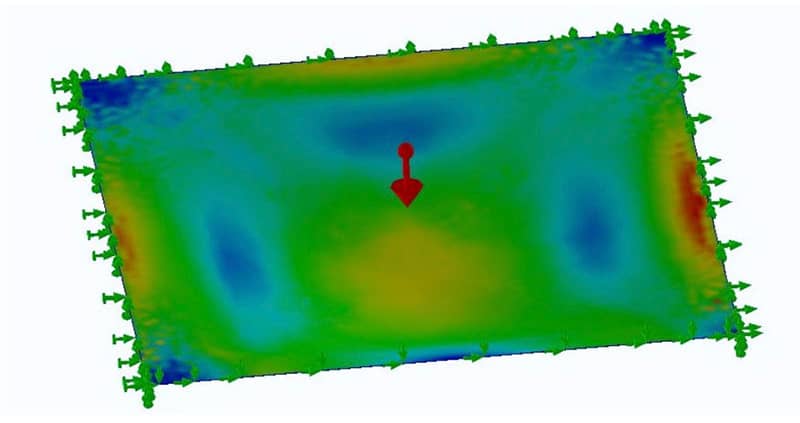 Results Summary
Ziptrak® Spline to Track strength exceeds a direct load of 240kg
Blinds can withstand extreme loads with only a slight change to the Fixing Instructions resulting in an approximate 30% increase in wind resistance performance.

More than 140 Km/hr.* (Ziptrak® Windy Location Fixing Procedure)
More than 160 Km/hr.* (Ziptrak® Extreme Conditions Fixing Procedure) *Results are for a 2.5m x 2.5m blind.

Conclusions
The Ziptrak® Outdoor Track Guided Blind system transfers the wind loading to the side channels and tracks.
The tests confirmed that the standard Ziptrak® Side Spline, when installed correctly and to the loads used within the tests, will not pull out of the Ziptrak® Track due to side forces acting upon it.
Maximum wind resistance performance is possible from slight changes to the fixing instructions of the Ziptrak® side channels.
Common sense must be utilised, as every installation is unique and localised wind conditions should be considered.
Ziptrak® Blinds are engineered to work as a total system, withstand significant wind resistance, and last many years. Hundreds of thousands of satisfied customers in Australia and around the Globe attest to this.
Ziptrak® Outdoor Blinds continue to provide the maximum wind resistance performance of any Outdoor Blind system in its class.
Whilst Outdoor Blind Systems are not solid walls, consumers can be confident that Ziptrak® Outdoor Blinds can withstand significant winds.
To ensure the longevity of the blind skin and the blind operation and to preserve the integrity of the outdoor structure, Ziptrak® recommends that Customers raise their Ziptrak® Outdoor Blinds fully when experiencing Very Strong Winds, a Storm or a Severe Weather Event.