If you're looking at adding blinds to your alfresco area, you've probably come across two main options; manual and motorised outdoor blinds.
Alfresco Blinds Perth recommends and supplies the industry leading range of Ziptrak® Patio Blinds, which are available in both manual and motorised options. 
Important Factors to Consider
I can hear you thinking: are motorised outdoor blinds worth the investment? Here are some important factors to consider in order to help you make a decision –
Speed
Most people assume that motorised blinds will be faster to operate, however this is not necessarily the case. Ziptrak® Blinds include a patented track-guided design. This allows the blinds to glide quickly and smoothly, and stop at any height, whether motorised or not. In fact, the manual pull-down blinds can often be fully retracted within 5 seconds.
Convenience
With this being said, the operator must position themselves next to the blinds in order to operate manual pull-down blinds. Whereas, the motorised options are controlled via a remote allowing you to control them from up to 10 metres away. This therefore makes the motorised option much more appealing when your blinds are positioned in areas that are hard to reach.
Furthermore, if you are elderly or suffer from mobility issues you are likely to find the motorised outdoor blinds significantly more convenient.
Property Value
Adding either manual or motorised outdoor blinds to your home or business is sure to increase the value or your property. However, motorised blinds are more appealing to most homebuyers and therefore add more value.
Many customers of Alfresco Blinds Perth are happy to pay the additional price for motorised blinds. This is because they feel as though they are making a smart long term investment.
Price
Lastly, it will cost an additional $400 – $500 per Ziptrak® Blind if you elect to go with the motorised option. Like all decisions, you'll need to consider whether the benefits will outweigh this additional investment.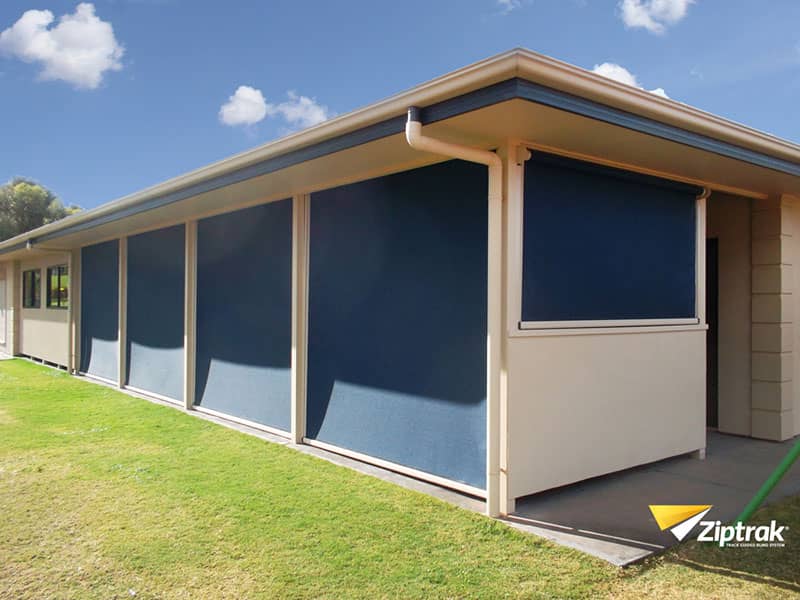 Summary on Motorised Outdoor Blinds
To summarise, motorised outdoor blinds are well worth the investment if your blinds will be located in a hard to reach area, if you suffer from mobility issues, or if you're simply looking to maximise the value of your property.
At Alfresco Blinds Perth, we'll visit your home or business and take the time to carefully understand your requirements before we recommend manual or motorised blinds. We'll also provide recommendations in regards to the style, colour and materials that best suit your individual requirements. Give us a call today to schedule a free measure and quote if you're located between Lancelin and Rockingham.