If you're looking at adding outdoor blinds to your home or business you're probably wondering what options you have. Ziptrak® allows you to fully customise your alfresco blinds by selecting a style, colour, size and additional features to suit your individual requirements.
In this guide, we have provided a comprehensive checklist on how to design your own blinds, however please note that we can also visit your home or business in Perth to provide a comprehensive measure and quote.
1. Measure Your Area
Carefully measure the height and width of the opening where you want to position the outdoor blinds.
We recommend the maximum dimensions listed below for installing outdoor blinds. However, make sure you speak with us if your alfresco area is larger than the maximum area, as we may be able to install additional vertical supports or provide another solution.
Sunscreen Mesh = 6m wide x 3.5m high

Clear PVC = 5.5m wide by 3.5m high
2. Choose a Type of Installation
Ziptrak® Blinds can be attached to a wide variety of structures that support your opening. The side tracks, or channels, have two installation options –
Face Fix
Attaches the channel to the face or front side of your opening.

Reveal Fix (Recess Fix)
Attaches the track onto the interior frame or surrounding cavity of the opening.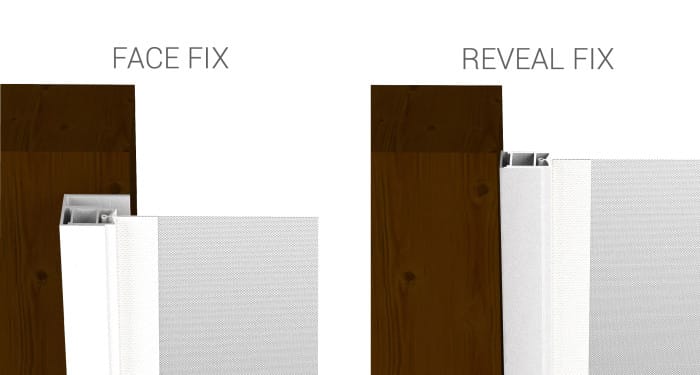 3. Choose a Skin Material
Select from two types of skin material –
Sunscreen Mesh
The preferred solution when looking to retain airflow while restricting the sun. glare, wind and rain. They offer more privacy than Clear PVC and are available in a variety of weight and weave density, which will dictate the amount of UV protection and transparency.

Clear PVC
The ideal solution when looking for a clear view of your outside area. The PVC surface is 100% rain and wind proof, and will maintain the internal temperature within your alfresco area or commercial premises. They are also available in a 'smoke tint'.
4. Choose a Colour
The pelmet, bottom bar and vertical tracks within Ziptrak® Blinds are available in 6 standard colours, however these items can also be powder-coated in just about any colour. 
Try to match the colour and style of your home or business when selecting an appropriate colour scheme.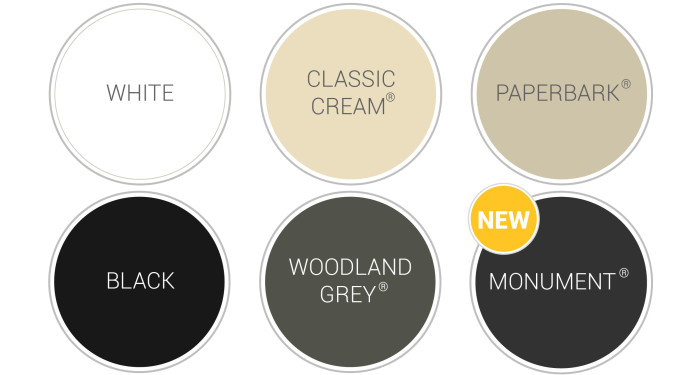 5. Choose a Top Style
Select from 4 different top style options, which will be dictated by your preferred style and the structure that the system will attach too –
Cast Bracket
Allows you to view the retracted blind.

Cast Bracket with Back Flashing
Hides the blind from the external side.

Traditional Pelmet
The pelmet protects your blinds and is essential for blinds mounted in areas that are not protected from the elements.

Streamline Pelmet
A new feature from Ziptrak® which featured a unique insect control system – learn more.
5. Choose Additional Features
Ziptrak® Blinds can be upgraded with several features depending on your individual needs –
Motorisation / Remote Control
Available with Sunscreen Mesh Blinds, motorisation is ideal for larger blinds or owners with mobility issues. The motor is not visible and allows you to control your blinds and stop them at any height, with the press of a button.

Bottom Bar Protection
Protect your bottom bars from the elements and close the gap, they are also ideal for uneven surfaces.

Weather Strips
An additional level of protection that you can add to the bottom of your blinds.

Centre Lock Release
Secure your outdoor blinds at the bottom and raise them with one simple touch.

Pull Sticks
Ideal for high blinds or those out or normal reach. The pull sticks are lightweight yet durable, and easy to use.

Removable Posts
If you have an area that is wider than 6m, a removable post allows you to install two blinds, and can be easily removed once the blinds are lifted.
Outdoor Blinds from Alfresco Blinds Perth
Alfresco Blinds Perth are a trusted, reliable and authorised supplier and installer of the industry leading range of Ziptrak® Blinds.
We service the entire Perth metro area and provide an obligation-free measure and quote for homeowners and businesses alike. Contact us today to discuss your personalised requirements.